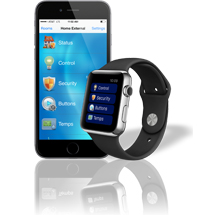 Apple Watch to automate your home!!
Apple Watch Bahrain Leviton Automation Home
Back in December 2015 Leviton announced Apple Watch ® support for the Snap-Link Mobile for iOS application (app). This new app provides the perfect solution for monitoring and controlling Leviton automation systems either remotely or locally and is offered without monthly fees or device licenses. Users can download the app via the Apple App Store® to their compatible iOS devices including iPad®, iPod Touch® and iPhone®, and now extend the app to their Apple Watch.
The Apple Watch extension utilizes watchOS 2 and explicitly allows for control over the most commonly accessed connected devices: lighting loads, the Leviton Omni security system, temperatures and controls that enact a chain of events to enable simultaneous system adjustments throughout the home or business.Automation System Bahrain acuZon
Read More: http://acuzon.com/leviton-apple-watch-automation/