Leviton Smart IP Intercom System
Leviton Smart IP Intercom System Bahrain Automation Home acuZon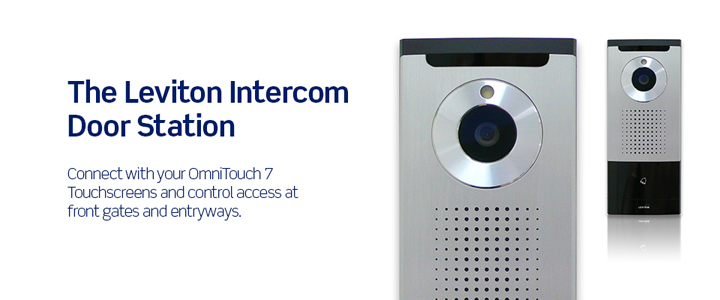 We are happy to announce our family expansion in the IP Intercom realm. Leviton now has a fully integrate-able homogenous set of products creating the most amazing Intercom experience available in Bahrain. The new Intercom Door Station for single-dwelling units is perfect for mounting at a front door or front gate when used with an Omni security & automation system. Have guests press the capacitive touch doorbell button and ring the desired interior OmniTouch 7 touchscreens. Accept or deny the call, see your guest, and even let them inside the building or secured area.
 Leviton Smart IP Intercom System Bahrain Automation
So what features do you get with Leviton Smart IP Intercom System?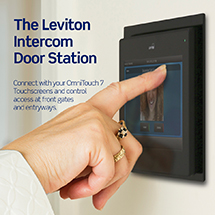 Calling between rooms has never been easier. With this system, you are able to smartly call the other room just like a hotel room to room calling. We can work with you to create group calls, so you may call both of your kitchens at the same time and call the housemaid.
Unlocking your main gate remotely is also available. Say you have your gardener coming during work hours. You can unlock the main gate for him to enter and do his work without you leaving your desk at work. With our integrate-able system now, you can also watch him through the cameras.
If you complement the package with an Access Control sub-system, we can create a scan-to open door mechanism for you too. This way, you can segment your smart home into specific locations with specific access privileges. For example, the gardener may enter the garden only, while the pool cleaner may access the garden and the pool door, and the housemaid may enter the garden, the pool and the back door of the villa. You may also specify the time slots per day, each of these individuals may enter. Leviton Smart IP Intercom System Bahrain Automation
The system offers the following features:
Touchscreen to Touchscreen communication
New ringtones to distinguish between a door station and a screen to screen call
Snapshot preview before accepting a call, as well as relay activation for a door or gate
Enhanced audio quality
 Leviton Smart IP Intercom System Bahrain Automation
Leviton Security & Automation
For over three decades, Leviton Omni security & automation systems have provided comprehensive control over residences and commercial properties spanning security, access control, video surveillance, distributed audio, temperature control and lighting or load control using wired and wireless devices, making the addition of the Snap-Link Mobile app the perfect integrated solution with no extra fees or monthly contracts. The Snap-Link Mobile app also allows for control over multiple Leviton managed properties from a tablet or phone, an ideal solution for vacation homes or multi-location business owners. Read more: http://www.leviton.com/automation
About Leviton & AcuZon 
AcuZon is a licensed Five Stars Installer for Leviton Security & Automation and acts as a footprint extension in Bahrain, offering supply of hardware, design and full integration of Leviton's S&A Systems. Read More: Leviton & acuZon
Leviton Smart IP Intercom System Bahrain Automation