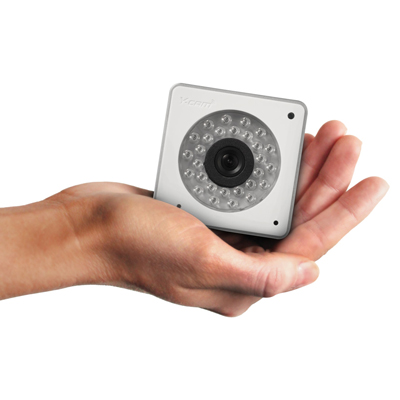 Announcing Y-cam as our vendor
Today we are happy to announce Y-cam solutions as our vendor for home surveillance and monitoring. Y-cam is respected UK IP Camera manufacturer that has a wide range of products and caters multiple solutions  to serve every possible need out there. The company is proud to share multiple awards won in the last few years such as five stars award from BEST BUY – Computer Shopper, Recommended award from Trusted Review, PC Pro,  Kit Guru and Mac Format Choice, Silver Award from Hardware Look, and Gold Award from WebUser. They specialise in Wifi enabled IP Cameras starting from standard definition to full HD indoor and outdoor cameras, dome cameras, night mode with IR cuts, SD card recording, local network NAS recording and FTP upload. Their cameras carry motion sensors to trigger clips recording, can record continuously and are remotely accessed through any internet connected devices such as smart phones and computers.
Y-cam offer a distributed system where each camera acts as a single recording and processing unit in de-centralised form. This is a critical element in comparison to the ordinary centralised security systems recording to a DVR through a proprietary video network. Given its distributed nature, it bypasses the single point of failure that centralised system suffer. That is, if the DVR fails, the whole set of cameras fail at once.
Next to Y-cam as the main brand, there are two sub-brands, HomeMonitor and BABYPING. As the names indicate, the first is for easy to use, easy to install home monitoring system, and the later is to monitor babies and children. The main brand set of cameras are more like an open hardware product that can be used with multiple NVRs, NASs and softwares to use and control.
Its HomeMonitor range is a very successful set of products that has been coming in the press quite often, and has been awarded multiple times. The company describes the product as follows:
"Tap into your home life from anywhere with HomeMonitor – a quick and simple way to watch whatever you want with everything recorded and stored securely in the cloud, free for 7 days.  Super simple to set up and use, just connect a camera, create an account and you're away. No technical knowhow, no fiddling with router settings, you don't even need a PC to setup. This professional camera even comes with infrared night vision, letting you see in the dark! Add more cameras at any time, and get extra online recording storage time for a small annual fee". It is worth noting, that Y-cam is the only vendor in the market that offers free subscription to cloud recording.
We are happy to officially be the only resellers for Y-cam in the local market of Bahrain, where we will be providing  along with all Y-cam products all the technical support needed. We intend to have a long lasting relationship where we will be achieving economic goals for both parties.
Read more about AcuZon and Y-cam in the following in THIS LINK.